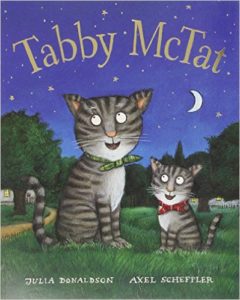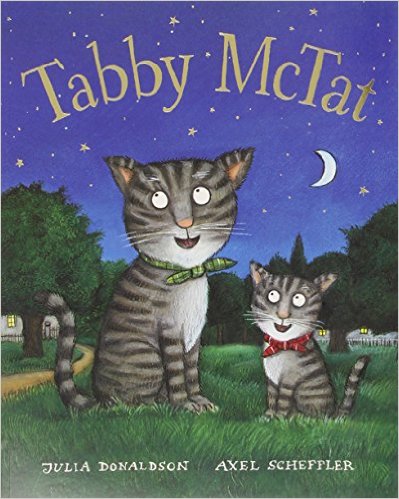 Written by Julia Donaldson
Illustrated by Axel Scheffler
Published in 2009 by Alison Green Books
Tabby McTat is a busker's cat who lives in a city where people stop to watch street performers, instead of casting their eyes to the ground and giving them a wide-birth. It is a place where gargoyles abound and cats have claws like Wolverine. McTat's owner, Fred, a guitar extraordinaire and lyrical genius, lives the simple life of a struggling artist, surviving on bacon, bread, and the exploitation of his pet.
One day the pair's world is turned upside down when a smiling criminal, wearing a hot-pink jacket, steals the old checked hat that is filled with their bacon-sandwich money. While giving chase, Fred trips on an undone lace and disappears in an ambulance that is too small for the stretcher he is on. McTat, who had been off having a cat-to-cat chat with Sock, a glossy, green-eyed cat, returns to find the busker gone. He roams the streets in search of Fred until one-day Sock convinces him to abandon his life on the streets and come and live with her tartan wearing spinsters who let stray cats lick their feet.
The next morning Fred is released from hospital. Covered in bandages and with only one crutch, he returns to their spot beneath the gargoyle. He is surprised to discover that his cat, an animal renowned for its loyal and selfless nature, has not remained there waiting for him. McTat, who has also had trouble letting go of the bachelor life, finds himself returning the square in search of Fred. All he finds is a brass band, a singing dog, and lots of men wearing pinstripe.
Sensing McTat's restlessness, Sock conveniently falls pregnant. She chooses to tell McTat about their Wolverine kittens after the birth, casually breaking the news with 'look under the bed…'. Luckily for Sock, one of the kittens looks exactly like McTat. However, this works against them, as when it comes time for the happy couple to give their offspring away, no one wants the ugly tabby with the deafening miaow. McTat, unable to cope with the disappointment of family life, sets off in search of Fred once again. Spoiler alert – McTat finds Fred and hands over his unwanted son to live on the streets with the busker who now sings about his depression. The pair work on some new material, wait, no they don't. The enthralled audience doesn't care.
I highly recommend Tabby McTat. It's a story you can re-read in one sitting without fantasizing about setting it alight the third time through. It offers important life lessons about tying your shoe laces, hospital cover, spaying your pets, and dealing with kids who disappoint you. It is written in a style that will appeal to young children and simple-minded adults who are not ready for poetry.
I give it five stars.